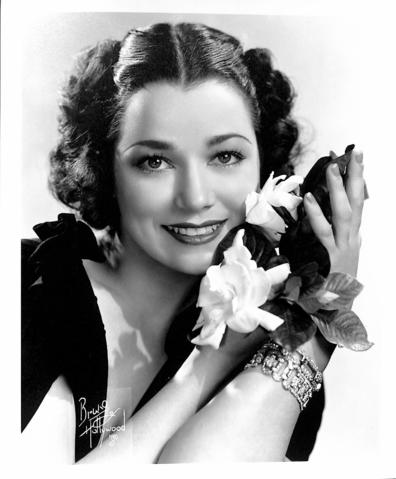 Elementos de identidad
Código de referencia
US US.INSON Mss 054
Nombre y localización del repositorio
Extensión
0.5 linear feet; 1 document box
Nombre del productor
(1910-09-08 - 1988-05-26)
Historia biográfica
Niela Goodelle Hartz (September 8, 1910 – May 26, 1988) was born Helen Goodelle in New York. In the 1920s, she worked as an accompanist for Burton Thatcher in exchange for vocal lessons. By the 1930s she was a budding Hollywood starlet, performing in Perfect Thirty Sixes, Rhythm of Paree, and Spring is Here. She was part of the touring production of Ziegfeld Follies of 1934. She is perhaps most famous for turning down a marriage proposal from Rudy Vallee in 1937.
In 1940, Goodelle retired at what was arguably the peak of her career and married Minton Hartz. She moved to Evansville, Indiana where she and Minton raised three children.
Área de contenido y estructura
Alcance y contenido
The collection contains newsclippings, photos, an address book, lacquer discs, one 78rpm recording, contracts and telegrams belonging to 1930's actress and singer Niela Goodelle.
Sistema de arreglo
The collection is in its original order arranged by format.
Condiciones de acceso y uso de los elementos
Condiciones de acceso
All material is open to the public without restriction. Copyright laws of the United States (Title 17, United States Code) govern the making of photocopies or other reproductions.
Condiciones
The copyright interests in this collection have not been transferred to the Great American Songbook Foundation. Music written prior to 1923 is in the public domain. For more information, please consult the staff of the Library and Archives
Escritura(s) de los documentos
Notas sobre las lenguas y escrituras
Instrumentos de descripción
Uploaded finding aid
Elementos de adquisición y valoración
Historial de custodia
Upon Goodelle's death, the collection passed to her daughter and then granddaughter Laurie Anderson prior to donation in the Songbook Foundation Archives.
Origen del ingreso
Received from Laurie Anderson, Niela Goodelle's granddaughter, in Carmel, Indiana on February 14, 2013.
Valoración, selección y eliminación
Elementos de material relacionado
Existencia y localización de originales
Existencia y localización de copias
Unidades de descripción relacionadas.
Descripciones relacionadas
Elemento notas
Notas especializadas
Mención: Niela Goodelle Papers, The Great American Songbook Foundation.
Identificador/es alternativo(os)
Área de control de la descripción
Nota del archivista
Inventory completed by Janice Roger, May 5, 2014.
Archival description created by Lisa Lobdell, November 21, 2017.
Puntos de acceso
Puntos de acceso por materia
Puntos de acceso por lugar
Puntos de acceso por autoridad
Tipo de puntos de acceso
Objeto digital metadatos
Tamaño del archivo
425.7 KiB
Cargado
28 de diciembre de 2020 11:11
Objeto digital (Ejemplar original), área de permisos
Objeto digital (Referencia), área de permisos
Objeto digital (Miniatura), área de permisos