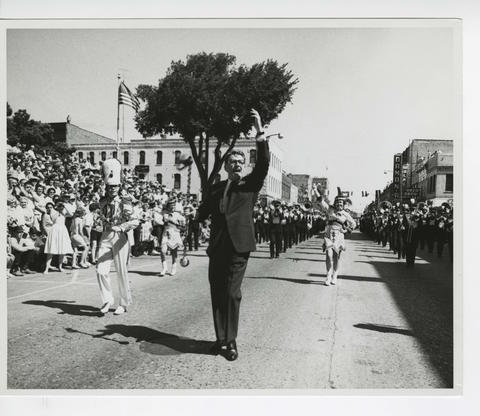 Identity elements
referentie code
US US.INSON Mss 049
Name and location of repository
Omvang
112 lft; 59 Paige boxes, 1 banker's box, 2 gray half-document boxes, 1 drop-front print box, 1 gray card file box, 44 scrapbooks, 3 gray audiocassette boxes, 8 16' transcription disc boxes, 1 white 45rpm box, 5 metal slide boxes, 1 slide projector, 1 slide carousel, 2 8TB hard drives, 1 4TB hard drive, 3 2TB hard drives, 1 1TB hard drive.
Naam van de archiefvormer
(1902-05-18 - 1984-06-15)
Biografie
Robert Meredith Willson (May 18, 1902 – June 15, 1984) was born in Mason City, Iowa, to John David and Rosalie Reiniger Willson. The entire Willson family was musical – both parents, Meredith, and his two siblings all played instruments and sang. Willson started on the piano and then took up the flute.
He was recruited to play flute and piccolo with the John Philip Sousa band in 1921, and continued playing with them until 1923. From 1924 through 1929, he played with the New York Philharmonic under Arturo Toscanini. He left the Philharmonic and travelled to the West Coast, where he worked as music director for a number of radio stations and radio shows. During World War II, he served as an officer in the Armed Forces Radio Service of the US Army.
Willson married three times: first to Elizabeth "Peggy" (née Wilson), to whom he was married from 1920 until their divorce in 1947; second to Ralina "Rini" (née Zarova), to whom he was married from 1948 until her death in 1966; third to Rosemary (née Sullivan), his former secretary, to whom he was married from 1968 until his death in 1984.
In his early professional career, Willson was best known as a musician and radio/television music director. He also composed original orchestral and band music, and wrote several books, including memoirs and a novel. His first big musical success was his smash hit, The Music Man, which premiered on Broadway in December of 1957. It has since had three Broadway revivals, in 1980, 2000, and 2022. He followed the success of The Music Man with three more musicals: The Unsinkable Molly Brown, Here's Love, and 1491. He was a member of the American Society of Composers, Authors and Publishers (ASCAP), The Songwriters Guild of America, and the Academy of Motion Picture Arts and Sciences, among others. He was inducted into the Songwriters Hall of Fame in 1982.
Content and structure elements
Bereik en inhoud
The personal and business papers of Meredith Willson, author and composer of "The Music Man" and "The Unsinkable Molly Brown," along with photographs, sheet music and arrangements, sound recordings, and audiovisual recordings from his personal collection.
Ordeningstelsel
The Meredith Willson Papers are divided into five series: Personal, Business: Musicals, Business: Other, Meredith's Music Collection, and Audiovisual Materials. Within each series, items are broken down into alphabetized categories.
Conditions of access and use elements
Voorwaarden voor raadpleging
Access to and use of some of the materials in this collection is restricted because of the nature of the material. Access is evaluated on a case-by-case basis. For more information, please consult the staff of the Library & Archives.
Physical access
Some of the materials in this collection are fragile due to age and/or poor physical condition and may be inaccessible. Consult the Library and Archives staff in advance of your visit to ensure access to these materials is available.
Voorwaarden voor reproductie
The copyright interests in this collection have not been transferred to the Great American Songbook Foundation. Music written prior to 1923 is in the public domain. For more information, please consult the staff of the Library & Archives.
Languages of the material
Chinees
Engels
Duits
Japans
Pools
Spaans
Taal en schrift aantekeningen
Uploaded finding aid
Acquisition and appraisal elements
Directe bron van verwerving
Received from The Music Man Foundation, formerly the Meredith and Rosemary Willson Charitable Foundation, on September 5, 2012.
Appraisal, destruction and scheduling information
Related materials elements
Bestaan en verblifplaats van originelen
Bestaan en verblijfplaats van kopieën
Related archival materials
Meredith Willson Music Collection, The Juilliard School;
Kermit Bloomgarden Papers, University of Wisconsin-Madison;
W. Earl Hall Papers, University of Iowa Special Collections;
Publicatie aantekeningen
McHugh, Dominic. 2021. "The Big Parade: Meredith Willson's Musicals from The Music Man to 1491." New York: Oxford University Press.
Notes element
Algemene aantekening
Separated materials: Published materials were removed from the collection and cataloged. They can be found in Worldcat and Libraryworld.
Specialized notes
Citation: Meredith Willson Papers, The Great American Songbook Foundation.
Conservering: Obsolete audiovisual materials have been transferred to digital format.
Alternative identifier(s)
Description control element
Sources used
Cross, Lucy E. "Meredith Willson." The Official Masterworks Broadway Site, Sony Music Entertainment, https://masterworksbroadway.com/artist/meredith-willson/.
Who's Who in America: 39th Edition, 1976-1977. Marquis Who's Who, 1977.
Willson, Meredith. But He Doesn't Know the Territory. New York: G.P. Putnam's Sons, 1959.
Aantekeningen van de archivaris
Initial finding aid created by Jessica Frederick and Janice Roger in March 2014. Processing and finding aid completed by Elisabeth Hedges in March 2023.
AtoM description created by Ashlee James, December 2017. Edited by Elisabeth Hedges, March 2023.
Trefwoorden
Genre access points
Digitaal object metadata
ingelezen
30 november 2020 12:25
Digitaal object (Master) rights area
Digitaal object (Referentie) rights area
Digitaal object (Thumbnail) rights area
Voorwaarden voor raadpleging en gebruik