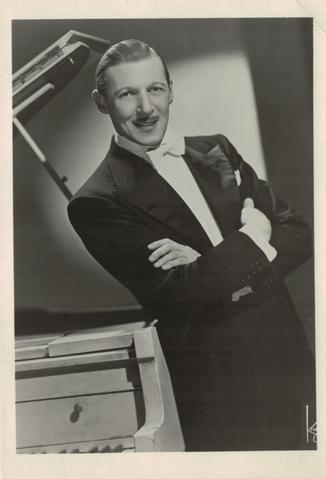 Zone d'identification
Nom et localisation du dépôt
Importance matérielle
1.5 linear feet; 1 document box and 1 record box
Nom du producteur
(1904-09-24 - 1976-01-17)
Notice biographique
Jan August was born Jan Augustoff in New York City, the youngest of five children. Jan's parents, having paid for music lessons for the four older siblings who lacked any musical aptitude, chose not to repeat the mistake with their youngest. Jan learned to play the piano by ear as a child; as an adult he learned to read and arrange music. He mastered the xylophone, vibraphone and Solovox as well as the piano. In 1946, his instrumental recording of "Misirlou," a Greek folk song, sold more than 1,000,000 records.
As a young man, Jan performed as a pianist with the Paul Specht Band in Greenwich Village nightclubs. In the 1930's, Paul Whiteman invited him to play in his orchestra; Jan also performed with Ferde Grofé. With the musical shift from jazz to swing in the 1940's, Jan returned to performing solo in clubs. His style attracted the attention of Irving Gwirtz of Diamond Records, who signed him to a recording contract. He received union scale wages of approximately $35 for his recording of "Bob-a-Loo"; the recording of "Misirlou" reached the Top Ten on the charts and launched his career.
Jan hosted and performed on radio, notably a 15-minute weekly broadcast on the Mutual Radio Network from 1947-1948. In 1948 and 1950, he appeared on "The Toast of the Town" and from 1949-1951 he accompanied singer Roberta Quinlan on her NBC variety show. Later he hosted "Jan August's Revere Camera Show". In 1949, he served as the subject of a 9-minute film short entitled "Audition for August" with Kitty Kallen. In the 1950's, Jan signed a recording contract with the Mercury label recording instrumental versions of popular hits laced with Latin rhythms. He also toured with his own orchestra in the United States and Canada. After arranging and recording more than 140 songs, Jan retired in 1967. He died of heart disease about a decade later.
Shortly before Jan's death, a musician performing under the name Jan August made the news in Florida, but it was an imposter.
Zone du contenu et de la structure
Portée et contenu
The collection consists of menus, press clippings, photos and recordings from the career of arranger and composer Jan August.
Mode de classement
The collection remains in its original order.
Zone des conditions d'accès et d'utilisation
Conditions d'accès
All material is open to the public without restriction. Copyright laws of the United States (Title 17, United States Code) govern the making of photocopies or other reproductions.
Conditions de reproduction
The copyright interests in this collection have not been transferred to the Great American Songbook Foundation. Music written prior to 1923 is in the public domain. For more information, please consult the staff of the Library & Archives.
Notes de langue et graphie
Instrument de recherche téléversé
Éléments d'acquisition et d'évaluation
Historique de la conservation
Source immédiate d'acquisition
Received from June Appell, Jan August's granddaughter, on April 13, 2011.
Évaluation, élimination et calendrier de conservation
Sources complémentaires
Existence et lieu de conservation des originaux
Existence et lieu de conservation des copies
Élément de notes
Note générale
Separated materials: Audio recordings were separated from the collection and cataloged in LibraryWorld accessible via our home page www.thesongbook.org.
Notes spécialisées
Information en traitement: Minimally processed by Lisa Lobdell. Completed January 2012.
Citation: Jan August Papers, The Great American Songbook Foundation.
Identifiant(s) alternatif(s)
Zone du contrôle de la description
Note de l'archiviste
FInding aid created by Lisa Lobdell, January 2012.
AtoM description created by Ashlee James, November 2017.
Mots-clés
Mots-clés - Sujets
Mots-clés - Genre
Document numérique - métadonnées
Taille du fichier
3.6 MiB
Téléversé
14 mai 2021 11:45
Document numérique (Matrice) zone des droits
Document numérique (Référence) zone des droits
Document numérique (Vignette) zone des droits