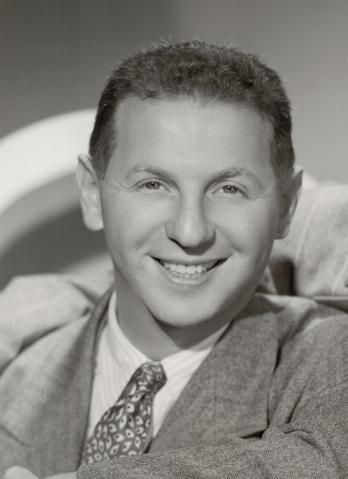 Identity elements
referentie code
US US.INSON Mss 009
Name and location of repository
Omvang
40 linear feet: 10 LP boxes, 1 CD box, 21 banker's boxes, 4 scrapbooks, and 4 framed items.
Naam van de archiefvormer
(1907-08-21 - 2007-07-02)
Biografie
Hy Zaret (August 21, 1907 – July 2, 2007) was born Hyman Harry Zaritsky in New York City to Max and Dora Zaritsky, who emigrated from Russia in the 1890s. Zaret attended public schools, but was not an enthusiastic student. Despite his small stature, he played football at a local community center. He attended West Virginia University and Brooklyn Law School, where he received his LLB. Zaret practiced law for a few years and legally changed his name in 1934. His first major lyrical success came in 1935 when he wrote the words to "Dedicated to You" with Saul Chaplin and Sammy Cahn. He served as a sergeant in the War Music Division during World War II and wrote many war-related tunes, including "Song of the Army Nurse Corps" and "Soldiers of God (The Chaplain's Song)." He also wrote English lyrics for "The Partisan" and "La Marsellaise." In 1944, he wrote the lyrics to "One Meat Ball", which became a success for the Andrews Sisters. Zaret's biggest hit, "Unchained Melody", written for the 1955 prison film Unchained, received an Academy Award Nomination for Best Original Song. Recorded by more than 300 artists, the song saw renewed interest in the 1990s with its inclusion in the movie Ghost. In the ensuing years, it received multiple awards from the American Society of Composers, Authors and Publishers (ASCAP), the Songwriter's Hall of Fame, and Rolling Stone magazine. Beginning in the early 1950's, Zaret began writing lyrics (usually in conjunction with composer Lou Singer) for children's educational songs and public service announcements for which he received numerous accolades. His efforts include Ballads for the Age of Science, Little Songs on Big Subjects, Little Songs for Better Schools, Little Songs for Busy Voters, Little Songs for Living Longer, Little Songs on Fire Prevention, Spotlight Ballads, Little Songs for the American Cancer Society, Sing-Along for Mental Health, and others. Zaret's marriage to Shirley Goidel produced two sons, Thomas (who predeceased him) and Robert. Zaret passed away in 2007 at the age of 99.
Naam van de archiefvormer
(1912-02-26 - 1966-12-28)
Naam van de archiefvormer
(1910-12-04 - 1991-09-08)
Content and structure elements
Bereik en inhoud
Papers and sound recordings spanning the career of lyricist Hy Zaret (Hyman Harry Zaritsky). Includes research, notes, handwritten musical notes and lyrics on staff paper, mock-ups and drafts of sheet music, printed sheet music, orchestrations, arrangements, and folios. It also includes copyright registrations, requests for use, letters of praise, scrapbooks, and correspondence. Collection also contains plaques and certificates presented to Zaret for milestones related to "Unchained Melody" and in appreciation for his work with Lou Singer on children's educational music, and audio recordings featuring unpublished and commercial reel-to-reel tapes, 78s, LPs, and lacquers of Zaret's songs, his Little Songs, and research-related materials.
Ordeningstelsel
Collection is minimally arranged into three series: Manuscripts, Awards, and Audio recordings. Published materials such as recordings and books have been cataloged and may be found in our LibraryWorld catalog (link can be found on homepage).
Conditions of access and use elements
Voorwaarden voor raadpleging
All material is open to the public without restriction. Copyright laws of the United States (Title 17, United States Code) govern the making of photocopies or other reproductions.
Voorwaarden voor reproductie
The copyright interests in this collection have not been transferred to the Great American Songbook Foundation. Music written prior to 1923 is in the public domain. For more information, please consult the staff of the Library & Archives.
Languages of the material
Taal en schrift aantekeningen
Uploaded finding aid
Acquisition and appraisal elements
Directe bron van verwerving
Received from Shirley Zaret, Hy Zaret's widow, in New York City on July 21, 2009.
Appraisal, destruction and scheduling information
Aanvullingen
A2016-004 (received February 3, 2016)
A2016-014 (received May 26, 2016)
Related materials elements
Bestaan en verblifplaats van originelen
Bestaan en verblijfplaats van kopieën
Related archival materials
Related descriptions
Notes element
Specialized notes
Citation: Hy Zaret Papers, The Great American Songbook Foundation.
Conservering: All 7", 10" and 12" lacquer discs have been digitized.
Alternative identifier(s)
Description control element
Aantekeningen van de archivaris
Finding aid created by Elizabeth Ungemach, June 2013.
AtoM description created by Ashlee James, November 2017.
Trefwoorden
Onderwerp trefwoord
Genre access points
Digitaal object metadata
Bestandsgrootte
800.4 KiB
ingelezen
16 maart 2021 12:33
Digitaal object (Master) rights area
Digitaal object (Referentie) rights area
Digitaal object (Thumbnail) rights area
Voorwaarden voor raadpleging en gebruik