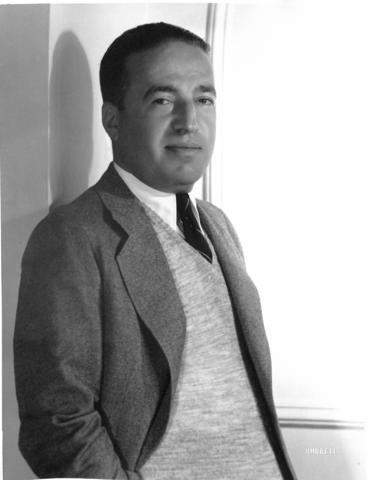 Elementos de identidad
Código de referencia
US.INSON Mss 001
Nombre y localización del repositorio
Extensión
3 cubic feet; 1 Paige box, 1 flip top document box, 1 flat document box, 1 black monogrammed box and 5 framed items.
Nombre del productor
(1886-11-06 - 1941-10-08)
Historia biográfica
Born in Koblenz, Germany on November 6, 1886, Gustav Gerson Kahn emigrated to America with his family when he was four; the family settled in Chicago in 1892. Gus completed grammar school where he demonstrated an ability to create rhymes and won an essay writing contest. He worked at various jobs including a stint as a pottery wrapper in a china factory while continuing to write lyrics. In 1909, Kahn collaborated with Grace LeBoy, a song composer for music publisher Joseph H. Remick whom he met on New Year's Eve, 1908. Their collaboration of his lyrics and her melody resulted in Kahn's first hit "Gee, I Wish I Had a Girl," and the marriage of Kahn and LeBoy after an 8-year professional relationship. The marriage produced two children, Donald and Irene.
In 1932, Kahn moved his family from Chicago to Hollywood where he worked as a lyricist for MGM and RKO. With Vincent Youmans, Kahn wrote the score for Flying Down to Rio, the cinematic debut of Fred Astaire and Ginger Rogers. Before his untimely death in 1941, Kahn worked on numerous films including The Merry Widow, Naughty Marietta, and Girl of the Golden West. His last hit, "You Stepped Out of a Dream," appeared in the 1941 movie Ziegfeld Girl.
Kahn worked with and befriended many of the top composers of the period including Walter Donaldson, Richard Whiting, and Harry Warren; his circle of friends also included actors and singers like Eddie Cantor and Al Jolson and bandleaders Guy Lombardo and Isham Jones. An avid golfer, Kahn was known to write lyrics while playing a course with Walter Donaldson. Al Jolson served as godfather to son Donald. Kahn served on the ASCAP Board of Directors from 1927 to 1930 and was admitted to the Songwriter's Hall of Fame in 1970. His 32-year songwriting career produced approximately 800 published songs, many of which remain standards today.
Área de contenido y estructura
Alcance y contenido
The collection consists of scrapbooks, photos, sheet music, manuscripts, and other material documenting the personal and professional life of popular music lyricist Gus Kahn who collaborated on many of the most enduring hits of the 20th-century including "Yes, Sir, That's My Baby," "Carolina in the Morning," and "It Had to Be You."
Sistema de arreglo
The collection is divided topically into five series: papers, original compositions, sheet music, photos, and framed documents.
Separated materials: Originally, the collection included materials belonging to Donald Kahn, composer and son of Gus Kahn. These materials were separated and can be found in Mss 044.
Condiciones de acceso y uso de los elementos
Condiciones de acceso
All material is open to the public without restriction. Copyright laws of the United States (Title 17, United States Code) govern the making of photocopies or other reproductions.
Condiciones
The copyright interests in this collection have not been transferred to the Great American Songbook Foundation. Music written prior to 1923 is in the public domain. For more information, please consult the staff of the Library and Archives.
Escritura(s) de los documentos
Notas sobre las lenguas y escrituras
Instrumentos de descripción
Uploaded finding aid
Elementos de adquisición y valoración
Origen del ingreso
Received from Margaret Kahn, widow of Donald Kahn, on November 18, 2008.
Valoración, selección y eliminación
Elementos de material relacionado
Existencia y localización de originales
Existencia y localización de copias
Unidades de descripción relacionadas.
Descripciones relacionadas
Elemento notas
Notas especializadas
Procesamiento de la información: Processed by Lisa Lobdell. Completed 5/22/2012.
Mención: Gus Kahn Papers, The Great American Songbook Foundation.
Identificador/es alternativo(os)
Área de control de la descripción
Nota del archivista
Finding aid created by Lisa Lobdell, May 2012.
AtoM description created by Ashlee James, November 2017.
Puntos de acceso
Puntos de acceso por materia
Puntos de acceso por lugar
Puntos de acceso por autoridad
Tipo de puntos de acceso
Objeto digital metadatos
Tamaño del archivo
610.6 KiB
Cargado
30 de noviembre de 2020 16:42
Objeto digital (Ejemplar original), área de permisos
Objeto digital (Referencia), área de permisos
Objeto digital (Miniatura), área de permisos